Spitfire home

Copyright
©2000
by Eric Kieboom
All Rights Reserved



Among other things, you'll find the following information here: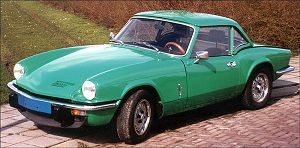 It may be a small car, but it is steeped in history. It nearly didn't get built, but became a British sports car best seller nevertheless. It won its class at Le Mans, it was a major export succes and had a production life of 18 years, in which it came in five steadily improved 'types'. Read all about it here.
It's surprising how popular Triumph Spitfires are these days. I often get asked by wannabe owners what to look for when buying. Mainly by making mistakes, I have gathered some experience in judging what is and what is not a Good Spitfire. I thought it would be a good idea to lay down this knowledge in a Buyers guide.
An important part of this is the Identification page. This is where you'll find the numbers, colour codes and other boring but useful information for identifying the Spitfire at hand.
Over the years, together with Jacob Poortstra, a good Spitfire-owning friend of mine, we have built up a fair collection of original Triumph Spitfire sales literature. So far, there are ten of them on the site, ranging from the very first 1962 issue to the very last 1980 brochure, with some brilliant photos.
This page is updated with new material quite often - there are at least four more brochures coming soon.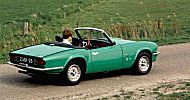 I admit it: I'm the owner of a 1976 Triumph Spitfire 1500 in original Triumph Java Green. If you're really interested, you can read all about my car, how and why I became its owner and many other tidbits I can't imagine you're interested in. Pictures, too.
In May 2000, I paid a visit to the The Spitfire Graveyard in Sheffield, England. See the pictures, read the story. You can almost feel the rust and smell the dampness.
Fellow Spitfire owners will know what I mean: you're constantly answering the same questions from non-owners. Is it expensive to run? Can you get the parts? Why doesn't it have a roof like all the other cars? Isn't it cold? Please read this page before you e-mail me your questions.
In addition, this page also gives some oft-given answers to questions about these webpages. Why, How, Whatever, that sort of thing.
Not really specific to Triumph Spitfires, but important nevertheless: spark plugs and what they're trying to tell you.
At the end of the last century, I had a little get together with a moped driver who wouldn't give way where he should have. See the results and the resurrection here.